Your stories. Your experience. In our Slovakia.
Zuzka: "What is your favourite place in Slovakia?"
BOJNICE
Bojnice. I feel very nostalgic whenever I am visiting this city because I loved this place as a child and I still love it today. Last summer I went on a 7-day trip across Slovakia with my mom and we stopped for two days in Bojnice. We visited my favourite locations and I couldn't be happier. As well, we discovered new spots that either have been built recently or I haven't seen them yet.
Castle
Our first day begins with a walk through the city center. The main attraction for tourists – Bojnice Castle – is visible from every point – Bojnice Castle. This is without any doubt my favourite castle in Slovakia. The castle crew organize many events there and thanks to this each of my visits was different. I went on a classical tour of the castle. It was amazing, Bojnice castle is a beautiful place with interesting history you'll get fascinated by. Other than that, captivating events like a tour around the castle with a little twist, night tours, fantasy tours for children, scary tours or even a Christmas tour are in the calendar of captivating events of the castle throughout whole year. I have been on a multiple scary tours because I have always loved the type of attractions like a haunted house. There you can meet jump scares, vampires, ghosts, werewolves, witches and many more. If this is not your cup of coffee, you can always look into their calendar and see if there is anything of your liking. Some events last for a week, maybe two weeks, but some last only for a few days.

TIP for you: Visit Bojnice Castle, go at least 10-15 minutes before opening in the morning. Later there will be long line of people waiting and you really don't want to stand in that line for at least an hour.
Lime tree of King Matthias
After our tour of the castle, we went to get " ice drť". It's crushed ice with mainly fruit flavour. This yummy snack is like a tradition for me at this point. With this amazing thing in my hand we went to look around the castle. There you can find wooden stands with souvenirs, handmade products, clothes and gifts. You can even take a walk around the park where you can find one of the oldest trees in Slovakia called the Lime tree of King Matthias. The first record of the lime tree is from 1952. However, a legend says that it was planted in 1301. In 15th century, Matej Korvín organized big celebrations and all his letters he signed with "Sub nostris dilectis tillis bojniciensibus" = Under out Bojnice lime trees. Later in 17th century, when armies captured the castle, they behaved nice to the tree and today, a little tree is there as a successor of the lime tree. In this park there is also a lake with a few small turtles and fishes. There you can walk through a lover's bridge full off padlocks with names written on them. If you are looking for something more unique, right next to Bojnice castle you will find a natural amphitheater, where a unique Aquila falconry show is regularly held. Performances sometimes include a fire show or the possibility of shooting from medieval weapons.
The oldest Zoo
After lunch we made our way to the Bojnice ZOO. It is the oldest and most visited zoo in Slovakia. They have almost 440 species of animals. My all-time favourite is red panda, because not every ZOO has it. You can find there a lot of types of birds, mammals, reptiles, etc. We had a lot of fun, we took photos with lion, bears, elephants and many more. The ZOO is quite large, but don't worry, on your path you will find a lot of maps to show you where the animal you want to see next is.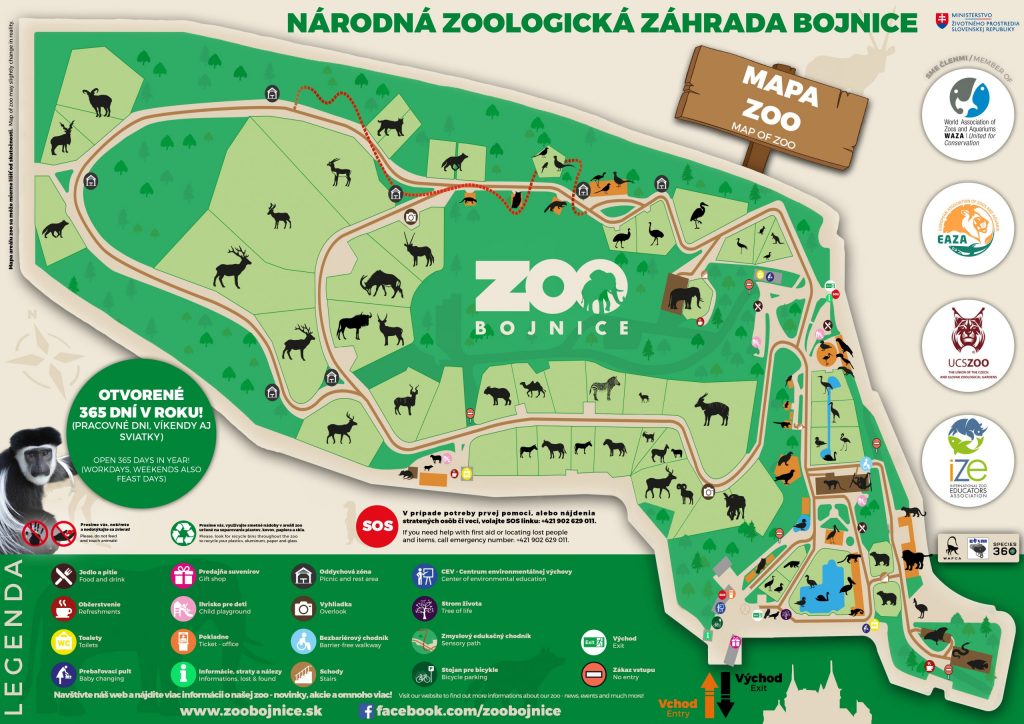 Čajka v oblakoch
The next day we wanted to see something new that we hadn't visited before. Around 2 years ago they build a new sightseeing tower above Bojnice called "Čajka v oblakoch". You can easily get there by a 10-minute ride in a city bus, or if you are going by a car there is a free parking waiting for you. Right at the entrance you will see these two beautiful towers surrounded by flowers. It's perfect spot to take some pictures. Then you will see a path that will lead you right to the sightseeing tower. Under the tower there is a beautiful fantasy Smurf village with houses in a form of mushrooms, lovely gazebo where you can sit and relax, wooden stands with amazing cold beer, food, ice cream and souvenirs. You will go up the tower on a wooden path that will lead you to the highest point which is 30 meters above the ground. There is a wonderful view along the entire length of the path. When you get to the top there is a telescope, walk on a net and a steel slide that will get you quickly back to the bottom.
House of illusions
The last stop on our journey in Bojnice was a House of illusions. It is a perfect spot for you to take some fun and crazy photos. You will go through the house and in each room there is either a painting on a wall or riddles that you can interact with. My favourite was a mirror room with changing lights and a painting of angel wings on a wall. There I could stand in front of it and take a photo of me being an angel. Of course there is so much more to see and have fun by. Even if you all want to make a group photo without leaving anyone out, , there is helpful staff that will gladly take a picture for you.
This article does not include even half of the things you can see there. I highly recommend visiting and discovering this wonderful place in Slovakia on your own.